The powerful sound of this all-male Choir consists of seasonal music from around the world as audiences are musically transported to faraway places including Russia, Europe, the Americas and more. The Choir showcases many beloved Christmas Classics as well as new and vibrant pieces, many sung in their language of origin. Also featured are favorites from previous tours including excerpts from Handel's Messiah and other holiday treats such as The Twelve Days of Christmas, and Silver Bells plus their hauntingly beautiful rendition of Silent Night. Their most recent CD, CRESCENDO!, features a selection of songs from their current performance program which are not found on their previous recordings.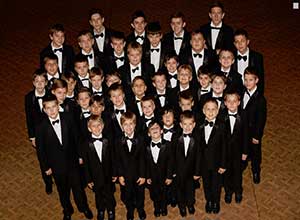 Photo Credit: IAI Presentations, Inc.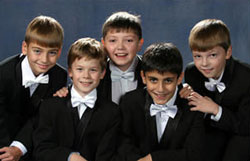 (Photo by: Tom Meinhold Photography)
THE MOSCOW BOYS CHOIR enjoys an international reputation for excellence. The Choir has toured many other countries including Japan, South Korea, Canada, France, Germany, Italy, Belgium and Holland. The activities of THE MOSCOW BOYS CHOIR in the arts are complemented by performances for Heads of State and Royalty including: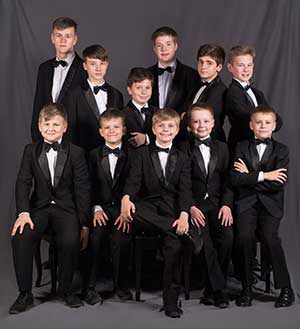 Photo Credit: IAI Presentations, Inc.
Thirteen North American tours, playing some of the most prestigious venues in the US and Canada.
Successfully toured South Korea, Japan, Canada, France, Germany, Italy, Belgium, and Holland, playing many prestigious venues in these countries.
Recorded a TV Special for HDNet Television which airs regularly on HDNet's In Focus.
Recorded a Radio Special for National Public Radio's "Performance Today."
Performed at a Holiday Gala at the White House for President Clinton and the First Family.
Featured on CBS' Christmas Eve Holiday Special, broadcast throughout North America.
Performed with Andrea Bocelli at the Moscow International Children's Festival.
Performed in Command Performance at Albert Hall in London for the Royal Family.
Participated in multiple performances for Heads of State across the globe.
Performed numerous performances at Presidential Galas at the Kremlin in Moscow.
Appeared regularly on Russian Television, including the programs Culture TV and Steps.
Appeared in numerous Choral Competitions winning multiple first prizes and awards.
Performed at the most prestigious venues in Moscow including the Olympic Hall, the Palace of Congresses, the Bolshoi Theatre, and the Tchaikovsky Concert Hall, among others.
Participated in the 850th Anniversary Gala, celebrating the founding of the City of Moscow.
Performed with the Moscow Conservatory with the Moscow Symphony Orchestra.
Performed with the Moscow State Radio Symphony Orchestra at the Moscow Composer's House.
Performed at the Crystal Cathedral on Rev. Robert Schuler's Hour of Power.
Performed at Disneyland Theme Park in Anaheim, California.
Performed at Dollywood Theme Park in Pigeon Forge, Tennessee.
The year 2007 marked the 50th Anniversary of the Moscow Boys Capella, the school at which the boys study their craft. Many concerts and gala celebrations surrounded this momentous event!
Photo Credit: IAI Presentations, Inc.

More Information Contact IAIP for further information and inquiries::
cynthia@iaipresentations.com


Moscow Boys Choir DVD/CD Packs
The Moscow Boys Choir Packs



Only $20.00, including Shipping & Handling!

Our exciting DVD/CD Packs are the gift you and your family will enjoy over and over again! Beautifully recorded, MBC's Christmas Around the World DVD and our CD variety packs, transport you to a higher level in the choral experience! As seen on HDNET-TV, the DVD features MBC's 30-minute Christmas Special, featuring Holiday Favorites, Russian folk songs and Classical music. Get our 3-CD pack for ONLY $20! Titles include "Crescendo!" "Christmas Around the World" and MBC's Original Release, "The Moscow Boys Choir." For $20 DVD/CD Packs, indicate which CD you prefer when placing your order. Buy the DVD and all 3-CD's for ONLY $35! All prices include S&H!


To order CLICK BELOW or call 1-800-424-3454, Ext. 0 or 12 OR visit MBC's FB Shop for hassle-free online ordering.

AND, YES, we have Christmas Audio Cassettes – only $10.00 each!





Download Videos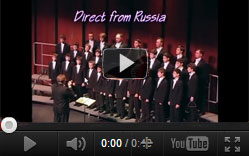 To download video - right click on a format below and use "save link as" or "save target as".




Sound Byte Samples Click on the song selection of your choice to hear a brief passage of the song performed by The Moscow Boys Choir.

For downloads, place your mouse over the name of the song you wish to download, click right on your mouse and follow the prompts to copy the sound file to a file in your computer. From there, you can copy it onto a disc or into an e-mail.

Client Resources

The materials above are subject to change. Please check back often for the most current information.

Reviews Below are samples of THE MOSCOW BOYS CHOIR's fabulous reviews, with virtually every word of these glowing articles quotable, here are a few highlights. Their sold-out engagements thrill audiences of all ages!

"The finely blended, exquisitely balanced MOSCOW BOYS CHOIR can sing with as much delicacy as anyone, but no other ensemble can sound this strong!"


~ St. Louis Post-Dispatch



"If indeed there is such a thing as a heavenly chorus, it must sound like THE MOSCOW BOYS CHOIR!"


~ St. Joseph News & Press



"Throughout their entirely memorized program, an amazing feat in itself, each member of THE MOSCOW BOYS CHOIR maintained incredible discipline and technical excellence, weaving together various parts, textures, and rhythms flawlessly. A rare mid-concert standing ovation, when the audience leaps to its feet before the last, lingering notes of a song, is perhaps the greatest compliment of all! Their combined talents mesmerized those fortunate enough to be part of the capacity crowd."


~ The Barrie Examiner, Barrie, Ontario, Canada.



"THE MOSCOW BOYS CHOIR gave an articulate, polished and precise performance of a challenging and varied program. A superb blend and the kind of ensemble cohesiveness that comes from years of working together made them soar!"


~ Milwaukee Journal Sentinel



"At last night's performance by THE MOSCOW BOYS CHOIR, the packed auditorium was filled with an audience of several hundred listener's - all of different ages. And what an experience it was! Discipline, precision and poise were the hallmarks of the evening's performance.with solos so exquisite, it brought tears to a few eyes."


~ Des Moines Register



"With close and smoothly flowing inner harmonies, THE MOSCOW BOYS CHOIR illustrates it's talents and skills at their very best."


~ Anchorage Daily News