Follow our Attractions on: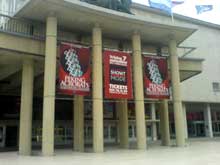 The Peking Acrobats expanded their European Theatre Tour to include dates in Belgium beginning in 2006.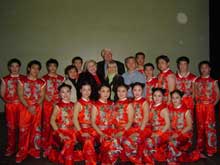 The Peking Acrobats smile big after their successful 2005 tour debut in Milan, Italy.
In February of 2005, THE PEKING ACROBATS premiered in Italy where they astounded Italian audiences with their incredible talents while on their five-week, twelve-city tour that took them to Milan, Pisa, Bologna, Naples and many other fascinating and exciting cities within Italy. The performers endeared themselves to the Italian audiences where they performed stellar shows to sell-out crowds.
In December of 2006, THE PEKING ACROBATS returned to Europe for another six-week tour of the Netherlands, Belgium, and Italy. Sparked by their tremendous success during their 2005 tour of Italy, this second European tour took them to many other exciting and fascinating locales, where they enjoyed sharing their ancient artistry with an ever-widening European audience. They visited Amsterdam and many Dutch cities within the Netherlands, as well as Bruges in Belgium, and several cities they had yet to visit in Italy. THE PEKING ACROBATS were so popular, that they were immediately re-booked for yet another, third European tour that same year! They returned to Italy and the Netherlands in October of 2007 and on this tour, they performed for new audiences in those countries and, for the first time ever, audiences in Switzerland were also able to witness their fascinating brand of artistry. In November and December of 2009, they toured yet again throughout the 'Low Countries,' thrilling audiences with their amazing talents and winning new followings with every performance. The 2009 Tour marked their Fifth European Tour in four years – an incredible achievement, to say the least, and a testament to the wide appeal of THE PEKING ACROBATS! And, in November and December of 2012, THE PEKING ACROBATS returned to Europe for their Sixth European Tour, where they played to sold-out houses in over 45 cities throughout Belgium and the Netherlands over two months!
Photo Courtesy of PNE.
A packed Theatre at The Pacific National Exhibition in Vancouver, Canada gazes up in awe at the amazing feats of The Peking Acrobats.
In November of 2014, THE PEKING ACROBATS embarked on their Seventh European Tour, where they debuted in Portugal , playing 8 cities in 10 days in this romantic and exotic country. These performance marked their very first performances for Portuguese audiences, and the shows were a great success! After these engagements, THE PEKING ACROBATS returned to Holland and Belgium for 4 more weeks of thrilling their European fans. On all of these International Tours, the performers have endeared themselves to their audiences and so it is no surprise that they are asked to return there by popular demand, again and again! The warmth and appreciation of people everywhere make THE PEKING ACROBATS feel right at home, and there is no doubt that the future holds many more such successful tours throughout the world!
A few examples of our International touring experience include:
Italian Theatre Tours
Belgian Theatre Tours
Swiss Theatre Tours
Netherlands Theatre Tours
Mexican Theatre Tours
Canadian Theatre Tours
Portuguese Theatre Tours.
Norway's Artist Galla Television Appearance
Edmonton's Captial Exhibition in Alberta, Canada
Vancouver's Pacific National Exhibition in British Columbia, Canada
Johnson & Johnson Medical Conference at the Venetian Resort in Macau, China
Unisys Conference at the Shangri-La Hotel in Beijing, China
Vernon Winter Carnival in British Columbia, Canada
Ottawa Children's Festival in Ontario, Canada
Canada's Wonderland in Toronto, Ontario, Canada
Le Festival de Cirque Vaudreuil-Dorion, Quebec, Canada

Contact Info
For further information and inquiries on our attractions, contact IAI at:
don@iaipresentations.com

The Peking Acrobats®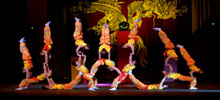 Jigu! Thunder Drums of China®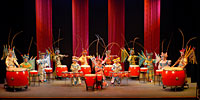 The Moscow Boys Choir®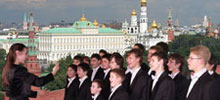 Reviews
"The Peking Acrobats overwhelmed the audience last week in Leeuwarden with amazing high level trickery. The audience watched the stage in astonishment as they were thrilled and enthused…this is the apotheose of an absolute top performance!"
~ Dagblad Van Het Noorden
"The computer animation that made"The Matrix" revolutionary just a few years ago comes to life on the stage, as it has for thousands of years, in this show most commonly described as viewing an action movie live."
~ WordPress.com
"Breathtaking stunts, spectacular pyramids and incredible feats with chairs, tables and bikes. That's what The Peking Acrobats are all about!"
~ Dag Allemaal