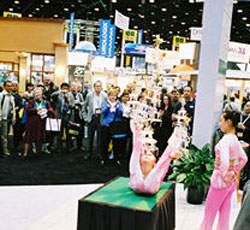 IAI Presentations, Inc. specializes in unique and exciting entertainment for Conventions, Corporate and Special Events! Experts at producing entertainment tailored to your requirements, our resources allow us to draw from an unprecedented pool of talent. We have produced shows for such prestigious clients as Dreamworks Animation, the International Monetary Convention in Beijing, China to Corporate Events world wide for such major corporations as USA Olympic Swim Team, Smithsonian Associates, Ferrari/Maserati, Johnson & Johnson, Unisys, SC Johnson, Pepsi-Cola, Lucent Technologies, Merrill Lynch, Re/Max Real Estate and Walmart's 2010 Shareholder's Meeting in Fayetteville, AR, among many others .
The Stars of the Peking Acrobats thrilled NBA Golden State Warriors fans during this spectacular halftime display.
Book our attractions into your Trade Show Booth or for your Corporate Event and get the attention and traffic you want. As shown here at a recent trade show,THE STARS OF THE PEKING ACROBATS really drew the crowds for our client, General Electric!

(Photo - IAI Presentations)
Our Contortionist WOWS the crowd at the star-studded Ocean's 13 Movie Premiere Party in Hollywood, CA, June 2007.





We also produce popular family outings such as First Nights, Employee Appreciation Parties, Sporting Event Half-Time Shows for Major League Basketball, Football and more. With IAI Presentations, Inc. you are guaranteed the highest quality entertainment and the most memorable events that your clients and participants will always associate with you or your product. We can even incorporate special messages into our shows and convey them to your guests. Your Success is Our Business!



The shows at right are available for your Convention, Corporate or Special Event.

Click the Links on the right for more details!